System Advantages

7x24 hours automatic collection
7x24 hours of continuous monitoring, regardless of the weather environment, accurate and reliable data

Axle Data Linkage
Fusion of multi-source sensors with visual recognition technology to establish axle information linkage model and realize heterogeneous data fusion


digital twin visualization
With digital twin visualization technology as the core, constructing 3D digital bridges and visually displaying bridge health information


damage recognition
Based on the sensor monitoring data to calculate the structural frequency, formation, damping ratio and other parameters, using a variety of methods to determine the structural damage


Conservation decision-making
Comprehensive evaluation of safety status information to provide a scientific basis for bridge structure operation and criticality decision-making

Monitoring elements

Monitoring Principles

Horizontal and vertical monitoring is realized by satellite RTK differential technology with real-time accuracy of centimeter level and post-decompute accuracy of millimeter level.

Monitoring equipment

GNSS All-in-One
Working Principle

The vibration tilt sensor is powered by a built-in 76AH high-density lithium-ion battery, 2/3/4G communication mode, internal integration of three-axis MEMS acceleration sensor, magnetometer, positioning module, to achieve multi-factor acquisition; the use of extremely low-power design + frequency conversion acquisition mode to control system power consumption, low-power mode, automatic frequency reduction acquisition (400Hz), the need for timed acquisition or the sensor tilt or vibration, immediately switch to work mode, high-frequency sampling (2000Hz) and continuously add the report. or vibration, immediately switch to the working mode, high-frequency sampling (2000Hz) and continuously add the report.

Monitoring equipment

Vibration Skew Sensors
The inclination sensor is a standard industrial dual-axis inclinometer, which can be used outdoors for a long period of time by detecting the tilt angle in the environment where it is used to determine the tilt status of the equipment.

Fixed Skew Side Gauge
Monitoring Principles

Anchor cable meter is vibrating string sensor, vibrating string sensor sensitive element is a metal steel string, it is connected with the sensor force parts fixed, using the self-oscillation frequency of the steel string and the steel string is subjected to the relationship between the applied tension of the various physical quantities measured. Anchor cable gauge is mainly used in cable structure load-bearing bridges, pre-stressing, rock cable anchoring, dam cable anchoring and other cable cable force measurement.

Monitoring equipment

anchor cable gauge
Monitoring Principles

Magnetic flux sensor is based on the principle of magnetoelastic effect for measurement, when the ferromagnetic material is subjected to external force, its internal mechanical stress or strain, the corresponding magnetic permeability changes, through the determination of the magnetic permeability changes to reflect the stress (or cable force) changes. Magnetic flux sensors can be applied to the cable monitoring of cable-stayed bridges, the cable monitoring of suspension bridges, and the cable monitoring of suspension bridges.

Monitoring equipment

Magnetic Flux Sensor
Monitoring Principles

Stress-strain sensor is a vibrating string sensor, mainly installed in the bridge surface steel structure, when the measured structure deformation, will drive the surface strain gauge deformation, deformation through the front and rear end seat to the vibrating string into the vibrating string stress changes, thus changing the vibration frequency of the vibrating string. Electromagnetic coil excitation vibration string and measure its vibration frequency, frequency signal through the cable transmission to the reading device, can be measured to cause the deformation of the structure to be measured strain. At the same time, the temperature value of the deployment point can be measured simultaneously.

Monitoring equipment

stress-strain gauge
Monitoring Principles

Monitor the temperature and humidity, wind speed and direction, and rainfall of the environment in which the bridge is located.

Monitoring equipment

Six-element meteorological sensors
Monitoring Principles

Crack meter in the monitoring project is mainly for displacement monitoring, in the harsh environment of long-term monitoring crack depth, width, opening and closing degree of the instrument, the principle of intuitive, simple structure, reliable work, long service life; high resolution, wide range of applications, waterproof performance is remarkable, suitable for different applications;.

Monitoring equipment

crack gauge
Monitoring Principles

Through the application of video recording, playback, linkage alarm, monitoring strategy formulation and emergency command for remote monitoring objects, it achieves the dual functions of monitoring and communication, and fully meets the needs of remote monitoring and emergency command.

Monitoring equipment

surveillance camera
system platform

digital twin visualization
Combining the user's in-depth business logic and 3D visualization technology, it provides users with one-stop services for digital twinning in the whole industry chain, such as data collection, analysis, fusion, early warning and management.

Axle-linked safety monitoring
Through the collection and fusion of vehicle information and bridge multi-source data collection and fusion technology, multi-means linkage early warning analysis, customizable report service

Monitoring and early warning mobile
Monitoring data can be viewed in real time via mobile app
Data Processing Function Module

Fact Sheet
Monitoring the overall status of early warning in the region
GIS + 3D Visualization Integration
Multi-source sensor fusion


warning message
Red, yellow, orange and blue warning information
Comprehensive analysis of the causes of early warning
Leveled Alert Push
SMS, email and other push methods

data analysis
Trend analysis of multi-source monitoring data
Multi-source data correlation analysis
Stability assessment analysis of the monitoring area


Automatic generation of monitoring reports
Automatically generated by the system according to the settings
Daily, weekly, monthly and annual monitoring reports
Early Warning Management Functional Module
Short-range weather warning function model

Intelligent early warning with real-time data
Intelligent discrimination of terminal monitoring data in real time according to the early warning model.
Automatically generates and publishes an alert message once the preset range is exceeded.
Customized Early Warning Forecast Models
Customized setting of warning models based on different bridge types can be achieved
Project early warning forecast management on a bridge-by-bridge basis.
Project Cases
Project Background: Increasingly busy traffic volume and the number of heavy and overweight vehicles crossing the bridge has increased the degree of damage to the bridge, and along with the aging of bridge materials, environmental climate and other multiple effects, many bridges have been serious functional degradation of the situation.
Project Location: Ergan River Bridge, Wuxi City
Project time: September 2021
Monitoring elements: 1 GNSS monitoring station
                 4 vibration monitoring stations
                 1 Raytheon integrated monitoring station
                10 stress-strain monitoring stations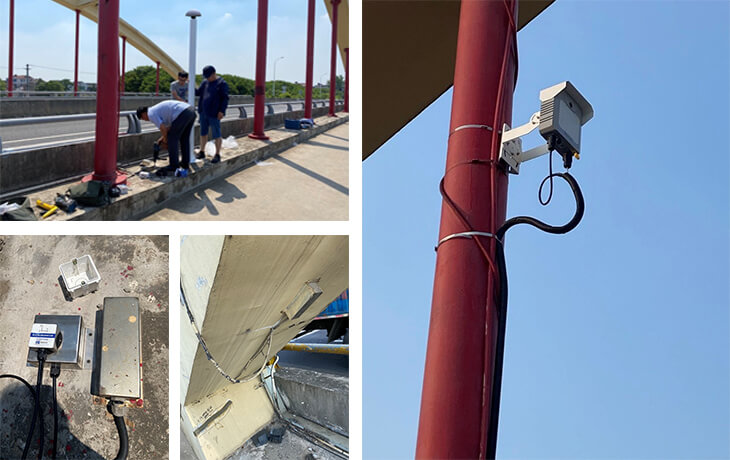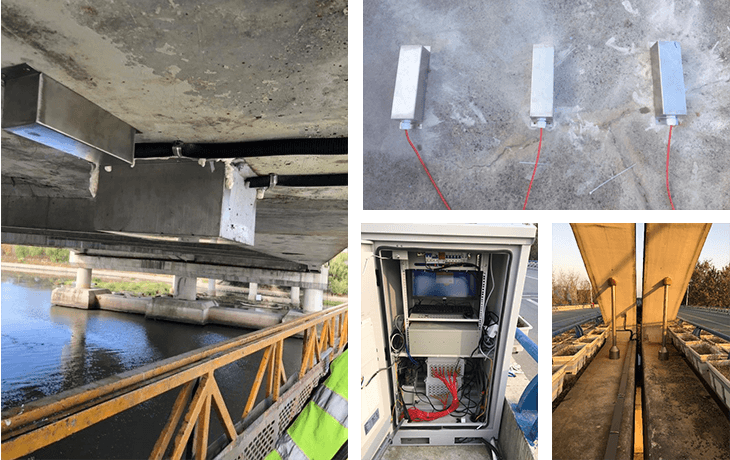 Project Location: Yancheng City G343 South Ring Bridge
Project time: August 2020
Monitoring elements: 20 stress-strain monitoring stations
                 5 tilt monitoring stations
                 4 vibration monitoring stations
Location: Baguazhou Yangtze River Second Bridge, Nanjing, China
Project time: 09/2016
Monitoring elements: 1 GNSS reference station
                2 GNSS monitoring stations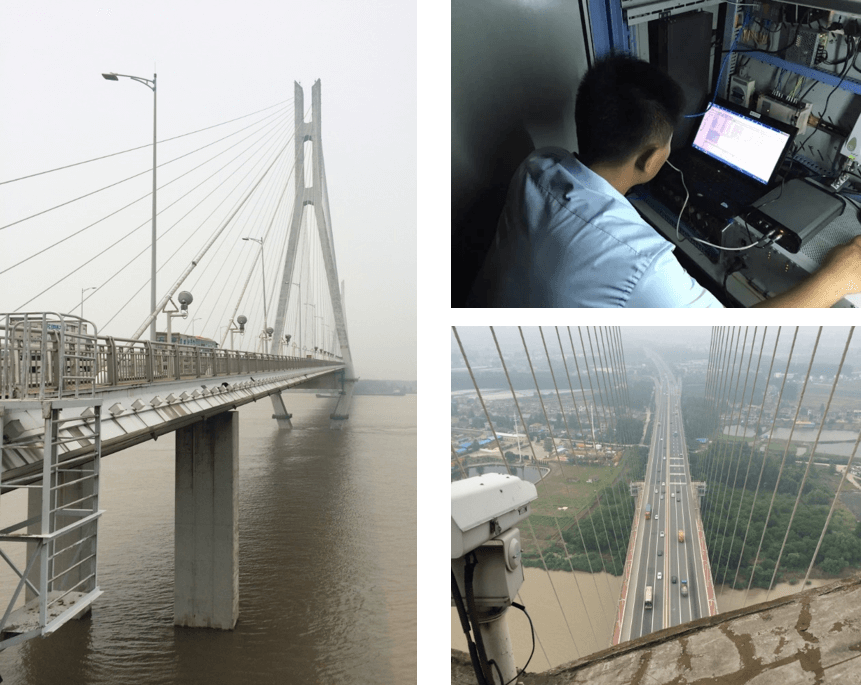 prescription